About the Melon Patch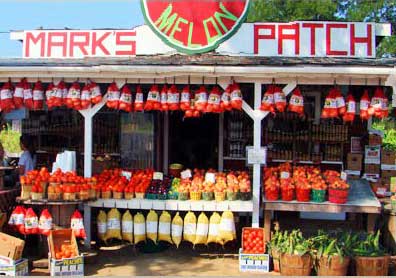 Mark's Melon Patch has grown faster than a morning glory vine since we started growing watermelons and selling them off the back of a pick-up truck.
Now, 30 years later, we farm over 90 acres on which we grow produce such as peanuts, pumpkins, cantaloupes, scuppernongs, sweet corn, and oh yeah, watermelons! Our product line has grown to over 150 items, which are available both at the farm market and some even online.
We take pride in the hard work and dedication it takes to bring you the finest quality products and served with your satisfaction guarantee. Our success depends on our customer loyalty and stems from your support. Feel free to shoot us an email or give us a call with any questions or comments about your visit! We look forward to hearing from you and seeing you this season at the patch!
Sincerely, 
Mark Daniel and the Staff at Mark's Melon Patch
About the Daniel Family
I parlayed my interest in gardening and helping my dad and uncle on our family farm as a child into a 5-acre watermelon patch at the age of 17. I sold the melons under the pecan tree that still stands in front of MMP.
My father (Tom) and Uncle John enabled me to blaze my own trail to the Mark's Melon Patch that exists today.
As the patch has grown over the past 35 years, so has our family. With our youngest heading to college and our other 3 children pursuing college degrees, we treasure the moments they are able to return home and help around the farm in the summer and fall.
Watching our kids grow up on the farm has been the coolest thing ever. It's ironic and really special to me that the small tenant house that my sisters and I spent our early years in is located only yards away from the fruit stand that encompasses my life's work.
I am overjoyed that our family will continue to grow alongside our customer base in the years to come around the place we hold so dear, the patch.
Mark Daniels
Mark's Melon Patch