Educational Field Trips
Give your student's young minds the fertilizer they need to grow this season with an exciting, hands-on trip to Mark's Melon Patch. Our school tours are a great opportunity for students to see the growing process of plants on a real, working farm!
About the Tour
Our educational tour of the farm will include educational lessons on how we grow and harvest our pumpkins as we take a ride on our hayride through the pumpkin patch! Each student will get to take home a souvenir pumpkin bracelet and a mini pumpkin.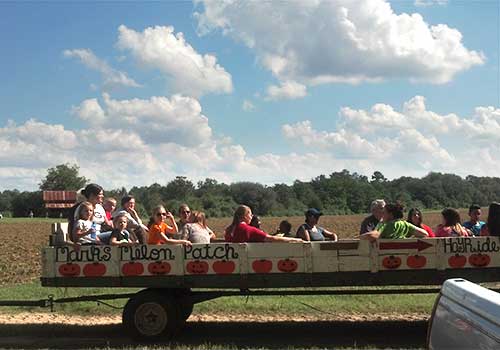 After the lesson portion of our tour we invite you to stay and play! Educational tours include freetime with the following farm fun activities:
Giant Pumpkin Castle
Corn Jump Castle
Our New Corn Maze
Our New Educational Barn
Our New Mark's Monster Slide
Pumpkin Playground
Corn & Cotton Barn
Farm Animal Exhibit
Billy Joe the Talking Scarecrow and his cousin Billy Bob will be back on the farm this year to meet and greet your class.
Sweet Treats
We will have Mark's homemade ice cream available for $1.00 and fresh lemonade for only 25¢.
Field Trip Admission
$6.00 per student/chaperone.
Two teachers per class ride for free!
School checks are encouraged to simplify the checking-in process.
Tour Pumpkins
Each tour includes two class pumpkins from the patch and a mammoth sunflower. You may choose and cut additional pumpkins from the patch for only $6.00 each.
Reservations
To register for your tour please give us a call at 229-698-4750.